Current Issue
(Fall 2005)

Table of Contents
Donors Boost Mini-Baja Cars' Successes
The dust swirled in the desert air as 131 mini baja teams raced for glory at the Society of Automotive Engineers' Mini-Baja 100 West competition recently in Tucson, Ariz.
U of L's two Mini-Baja cars, maintained and raced by mechanical engineering students from the Speed School, made their most impressive showings in competition to date. They finished 9th and 22nd, respectively, in the international field.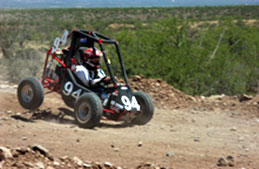 "It's taken a few years for us to get to this level of competitiveness, but each student team has built on the experience of the others," says the teams's faculty adviser Keith Sharp, a mechanical engineering professor. "We're starting to get a good reputation and expect to continue to improve."
This year's 100-mile race was the longest in the competition's history.
Speed's team, made up of a dozen graduate and undergraduate students, built, tested, modified, fine-tuned and raced its two four-wheeled off-road vehicles over a two-mile course of straights, hills, ruts and jumps.
Gordon Horn was the team's captain during the past year. He graduated this past spring with a master's degree in mechanical engineering. "My job was to keep everyone on target," Horn says. "I split up the tasks so that everyone was working on an area of the cars that they were interested in. For example, a colleague and I worked on the suspension. I was the only welder on the team, so I spent a lot of time fabricating."
Horn says the team learned from previous mistakes. As a member of the team in 2003-2004, Horn remembers a mishap at the 2004 Mini Baja West that cost the team a possible victory.
"We actually were in first place at that race when we had steering bracket failure and lost steering," he says. "That experience helped us and we swiftly corrected the problems this year. We rebuilt, reduced the weight, tweaked things."
One of Horn's duties as team captain in 2004-2005 was to raise funds to help maintain the cars. Many local businesses and individuals pitched in to help the students improve the cars.
O'Neal Steel in Louisville, for example, contributed all the steel used in this year's cars. "The university asked us to contribute steel and we were glad to help," says Craig Scott, sales manager at O'Neal Steel. "We pick some areas in the community to support, and U of L is near and dear to our heart. It's a good fit."
Material for the cars also was donated by United Defense (now BAE Systems), Cummins Engine Co., Neille-LaVielle Industrial and several other friends of Speed and the university.
"This is a great example of both large and small corporations, as well as other friends, partnering with Speed School to give the students opportunities to develop teamwork skills and engineering know-how," says Jack Roby, Speed's director of development.
Speed's dean Mickey Wilhelm agrees. "These students get a chance to apply their coursework and then take that product out and test it against the best," he says. "It really gives them experience they'll need working in the business world."
Horn sees his Mini-Baja experience as a valuable, hands-on educational opportunity. He now works as a design engineer in the custom engineering and tailoring department at Cummins Engine in Columbus, Ind. His job includes custom designing special-order options for heavy duty engines used in semi trucks, concrete mixers, school buses, dump trucks and transit buses.
"Working on the cars at Speed not only was good engineering experience but good life experience," Horn says. "We could apply what we learned in class to the real-world. A design may look good on a computer, but how does it really work? That's the challenge."
LG&E Presidential Scholarships Support Promising Speed Students
Nathaniel Dorwart says he always had a knack for "tinkering," but when it came time for college he wasn't sure what engineering field he preferred.
"When I visited Speed School and looked at the programs, mechanical was the one that most interested me," he says.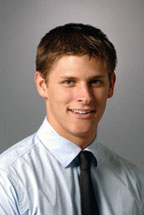 Nathanial Dorwart
After receiving his bachelor's degree in mechanical engineering this year, Dorwart now works at Louisville Gas and Electric's massive Mill Creek Station near Valley Station, Ky. At the same time, he's pursuing his ME master's degree at Speed.
Dorwart says he's able to pursue his ambitious goals thanks to the LG&E Presidential Scholarship program.
In 2004, U of L President James Ramsey (shown above, right) provided funds for the scholarship, which is awarded to a Speed student with an engineering bachelor's degree and who has completed three co-op internships at LG&E. The scholarship covers a year of in-state graduate tuition.
Dorwart, who received the scholarship in 2005 to cover his tuition in 2005-2006, is the scholarship's second recipient. He says he expects to graduate with his master's in summer 2006. The scholarship program's first recipient was Tiffany Koller in 2004. She has a bachelor's degree from the electrical and computer engineering department at Speed and also works at the Mill Creek power plant.
Ramsey says the scholarship idea came as a result of his regular meetings with area business leaders, specifically a lunch with LG&E president Vic Stafferi that led to Ramsey serving on the company's advisory board.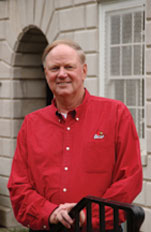 President James Ramsey
"Each of the advisory board members receive an honorarium for their service," Ramsey says, "and I felt that it was appropriate for me to create an LG&E scholarship program for one of our outstanding engineering students to have a work experience with LG&E, and to pay for this with a portion of the honorarium I received."
During his previous co-ops at LG&E and now as an employee working there part time, Dorwart says he's getting a lot of work experience.
"I got a call earlier this year and was told I was getting the scholarship because LG&E was interested in hiring me," Dorwart says.
"I'm responsible for creating and overseeing projects and making sure they're carried through; determining what's wrong and fixing it," he adds. "There's a lot of technical writing, time management and general management skills involved. It's a really good foundation of experience to build upon in my career."
Young Women Engineers Achieve Success
Joleen Phillips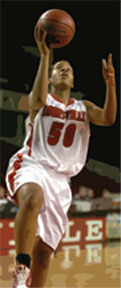 Joleen Phillips
Electrical and computer engineering senior Joleen Phillips had a surprise up her sleeve recently when she hit the court as a starter for the first time with the Cardinal women's basketball squad. Read the full story on how the usually studious Phillips taught a lesson to UK's star player at: http://louisville.edu/speedengineer/fall2005/phillips.php.
Tiffany Caldwell
Recent civil and environmental engineering graduate Tiffany Caldwell scored a perfect 4.0 grade point average at Speed, earning her the prestigious Lewis S. Streng Honor Graduate Award. See how one of the most awarded Speed students in recent years is putting her education to work in the field at: http://louisville.edu/speedengineer/fall2005/caldwell.php
Maria Chiodi
Recent industrial engineering graduate Maria Chiodi led a student team that helped the Ford Kentucky Truck Plant reduce waste on the production line. Read more about Chiodi, who is now a master's degree student at Speed as well as a recipient of the Dwight D. Gardner Scholarship, at: http://louisville.edu/speedengineer/fall2005/chiodi.php.

Return to Top

Table of Contents