Current Issue
(Fall 2005)

Table of Contents
Gung-Ho for NASA
Alumnus Paul Johnson Realizes Space Dreams
Long before interstellar probes and the Hubble Space Telescope brought Saturn's rings into close view, young Paul Johnson tried to catch a glimpse of them through his rickety backyard telescope. "All you could see were specks of light," he says.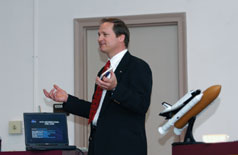 Mechanical engineering alumnus Paul Johnson brings enthusiasm to his NASA public presentations.
Growing into young manhood, Johnson remembers being "gung ho" to do whatever it took to work for NASA. "I even took interstellar physics as an elective," he notes with a smile.
Now, the 45-year-old Louisville native and 1984 bachelor of science degree in mechanical engineering recipient at Speed School says he has achieved his career dreams. No, he never became an astronaut as he once pondered, but he's done just about everything else at the space agency.
Johnson works as an engineer in the safety and mission assurance office at NASA's George C. Marshall Space Flight Center in Huntsville, Ala. He has worked on several projects related to space-flight hardware for space shuttles, domestic and foreign rockets and the international space station.
He recently helped assess the fleet of space vehicles designed to replace the remaining three space shuttles. He also is working on studies for new missions to the Moon and Mars.
His work for NASA began in 1982 when he did an engineering student cooperative internship while at Speed. After his 1984 graduation he began working at the Marshall Space Flight Center.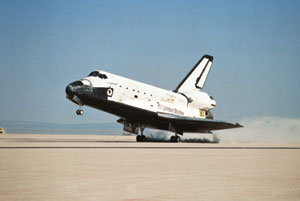 At around the same time, Johnson entered the U.S. Navy where he flew jet aircraft and has accumulated more than 1,500 flight hours. Johnson also served in a diplomatic capacity at the NASA Liaison Office in Moscow. There, he worked on phases of the space shuttle and the Mir space station in support of the international space station, a joint U.S.-Russian effort. "I've been lucky in my career, but only some of it is luck," he says. "The other 99 percent is work."
Johnson visited Speed last spring to tell students and other visitors about the past accomplishments and future plans of the space program.
"You're the next generation that is going to help us get to the Moon or Mars," he told the students.
He added that there were many classes offered at Speed that help students interested in working in space careers.
"When you graduate from Speed, you'll have to really hustle to find out where the jobs are, but they are out there."
Johnson continues his own education. He just completed his master's degree in engineering management at the University of Alabama in Huntsville.
He credits his Speed experience with helping him to succeed. "If it wasn't for Speed School, this all would not have happened."
Information for this story was provided by Judy Hughes.
New Bioengineering Degree a High-Tech Option for Students
It's official. Speed School now offers a new degree to help channel more students into the burgeoning field of bioengineering.
U of L has created a five-year integrated bachelor of science-master of engineering in bioengineering degree program, the first in Kentucky that includes an undergraduate degree component. The Board of Trustees approved the degree in July, and at least 20 students had registered for an introductory class this fall taught by Rob Keynton, the new department's chair.
"I think it was certainly one of the critical things we needed to have happen," says Speed School Dean Mickey Wilhelm. "We are very excited about this new development."
The program is designed to address the need for highly qualified bioengineers in the biotechnology and medical device industries and in hospitals.
"Since health care is a primary thrust for economic development in Metro Louisville and in the Commonwealth of Kentucky, it was apparent that an academic department was needed in the Speed School to organize the faculty, staff, students and infrastructure that we have developed in bioengineering over the past 10 years or so," Wilhelm says. The department was established last November.
Students will obtain a holistic engineering foundation in bioengineering during the first four years, after which the bachelor of science degree will be conferred. During the fifth year, students will complete advanced, in-depth courses in their bioengineering field of specialization and will receive the master of engineering degree. The program will require about 169 credit hours and will include both 50 weeks of mandatory co-op experience and a master's-level research project.
"Bioengineering programs attract some of the best and brightest students enrolled in engineering schools across the country and a relatively high percentage of female students. We anticipate this to be the case with our new program as well," Wilhelm says.
What's Going On Here?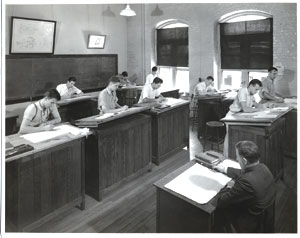 Do you have fond memories of the textbooks, Strength of Materials by Alfred Poorman or Machine Design Drawing Room Problems by Calvin Albert? Those books are on the professor's desk in this mechanical engineering or drawing classroom, possibly photographed in June 1956, as best as we can make out the date on the calendar on the wall at right. Are you in this photo, or do you recognize any of the students or the professor? If you think you know something about this picture, e-mail editor Kevin Rayburn. There's no prize, just your satisfaction at knowing you've helped to preserve a small piece of U of L and Speed School history. If we get definitive information, we'll post it on the online version of Speed Engineer and give you the credit.

Return to Top

Table of Contents