Current Issue
(Fall 2005)

Table of Contents
Speed Teams With Secret Service To Fight Computer Crime
Door alarms and block watches can't stop computer crime
Preventing the online pilfering of valuable personal or financial information as well as damage to computers by hackers, viruses and spyware takes a new kind of vigilance--a cyber block watch.
Getting the public to understand what it can do to stop computer intruders has even become a national security matter. The vast spread of high-speed personal computers and broad-band connections into homes and small businesses makes them ideal platforms to launch attacks against the national infrastructure. The government's 2003 National Strategy to Secure Cyberspace acknowledged this and suggested that public and private groups work together to deal with the threat.
In response, U of L's Association for Computing Machinery (ACM) chapter is working with Speed's computer engineering and computer science (CECS) department and the U.S. Secret Service to develop and present seminars to inform the public on how to fight computer crime.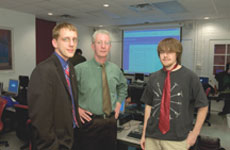 CECS instructor Michael Losavio (center) is flanked by two CECS students, Darrell Messer (left) and Gregory Horvay (right), who were part of a class that recently worked on developing computer security seminars.
"We've teamed up with the university in the homeland security area because it's important for us to connect with all sectors, including the academic community, to come up with joint research and to understand best practices that help people identify ways to keep their computers safe," says Norman Jarvis, special agent in charge of the Secret Service for Kentucky and Southern Indiana. "Helping people and businesses implement protection strategies at home is part of homeland security," he adds.
CECS Instructor Michael Losavio says that Jarvis' encouragement during seminar project development helped students to realize that the project was a needed component for cybersecurity in the U.S. The cybersecurity seminar project began as a student team project for CECS 311, the required computer ethics and law course for computer science and engineering students.
"This seminar project has actually become an important case study for the class, showing students how as ethical computing professionals they can take an active role in promoting social good and online safety," says CECS instructor David King, who team-teaches the CECS 311 class with Losavio. The student project has moved from the classroom out into the community.
"So far we've talked to students in schools, lawyer groups, small-business people and home users to inform people about what we know and what they can do," says ACM chapter president and CECS senior Tim Hnat. "One thing we want people to realize is that the Web is never as secure as you might think it is. And it's not just the Web that can be a problem, but computer and e-mail viruses, spyware and other things, too."
The interdisciplinary team presented its paper, "The Key Asset Protection Partnership: Computer Security, Homeland Security and Community Engagement," at the American Community Preparedness Conference Response to Terrorism 2004 conference last year in Louisville. The paper was written by Hnat and Jarvis along with fellow students Kevin Price and Natalie Heinen, CECS instructors Losavio and King and guest lecturer Jana Godwin '80S.
The paper suggested, among other things, that student ACM chapters and other computer-oriented groups conduct cost-effective training to consumers, who could then take steps to protect themselves and small businesses from becoming victims of and unknowing contributors to computer crime. Topics could range from the importance of performing regular software updates and installing anti-virus protection to learning how to set up a firewall.
"Most people were surprised by how vulnerable their computers are to outside attacks," says Curtis Montague, speaking about a recent presentation the students made in Frankfort, Ky. Montague, coordinator for IT user training for the Administrative Office of the Courts for the Commonwealth of Kentucky, says the presentation by CECS students Heinen and Price provided users helpful, specific measures on how to secure their machines at home and at work.
"We are very proud of these students," says CECS chair Adel Elmaghraby. "They have gone beyond talk into action to address some of the problems that accompany the wonders of computing."
And Hnat says the effort to develop community talks and then actually going out and doing them has been good experience. "This really gives students an opportunity to not only speak to people but to get out into the community and give real presentations and engage with people interactively," Hnat says. "And that's something that can't be taught. You have to do it."
For more information, go to the ACM's Web site at http://www.speedacm.org/dhs.

Return to Top

Table of Contents