Current Issue
(Fall 2005)

Table of Contents
Speed News
Bioengineering
Robert Keynton became chair of the department in July. Keynton arrived at U of L in 1999 as an assistant professor of mechanical engineering and has assumed several administrative posts in addition to conducting bioengineering research. Now an associate professor, Keynton also is interim scientific director of the Cardiovascular Innovation Institute, a joint effort between U of L, Jewish Hospital HealthCare Services and other health-care partners.
Testing new medical devices often means manpower, handwritten paperwork and the potential for human error creeping into data reported to the U.S. Food and Drug Administration. Steven Koenig, a U of L surgery professor with a joint appointment in bioengineering, and colleagues have studied an electronic recording system to gather and submit data that overcomes the limitations of traditional methods. His work was published as a co-authored paper in the May/June 2004 edition of Biomedical Instrumentation and Technology, the journal of the Association for the Advancement of Medical Instrumentation. The journal's editorial board cited the paper as the best published in the magazine in 2004. In addition, Koenig's work has been recognized by the National Institutes of Health as one of 2004's most innovative projects.
Chemical Engineering
Professor Mahendra Sunkara continues to attract grants for his ongoing nanowire research. Some of his most recent sponsored grants include: $102,500 from the Western Kentucky Energy Consortium for "Scaleable Technology for Hydrogen Production Via Photoelectrochemical Water Splitting;" $24,999 and $18,000 from the NASA EPSCoR program for "Direct Synthesis of Nanowires with Built-in Interfaces;" and $45,594 from Optical Dynamics Inc. for "Synthesis and Functionalization of Nanomaterials for Tuning Optical Properties." Sunkara also is co-principal investigator on a federally funded project headed by ECE professor Robert Cohn on "Nanowire Technology for Missile Defense." Sunkara received a $237,000 federal installment for that work.
Civil and Environmental Engineering
Professor D. Joseph Hagerty, a 35-year faculty veteran, was one of five U of L faculty members who received the university's Distinguished Teaching Award for 2005. Hagerty was cited by the nominating committee for the "life and vibrancy" he brings to his civil engineering classroom presentations. Hagerty also has received a 2005 Zone II Outstanding Student Chapter Faculty Advisor Award from the American Society of Civil Engineers for his work in advising students.
Computer Engineering and Computer Science
CECS is teaming up with the department of mathematics in the College of Arts and Sciences to offer an online certificate program in data mining. This completely online program consists of 18 hours, or six courses, of graduate study. Classes are scheduled to enable completion in as little as one year. Data mining, the science of extracting data patterns from large data sets, can be applied in many fields including medicine, e-commerce, security, the military, education and finance. Department chair Adel Elmaghraby cites the hard work of professor Mehmed Kantardzic and associate professor Antonio Badia, both of CECS, as well as Arts and Sciences math professor Patricia Cerrito in getting the program started. For more information, go to: www.cs.louisville.edu/dm/.
Electrical and Computer Engineering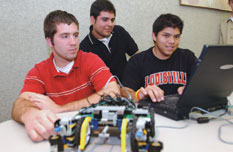 Andy Thaman, Jeff Zegarra and Conrad Rodas, left to right.
A robot built by Andy Thaman, Jeff Zegarra and Conrad Rodas defeated all rivals at U of L's first "robo-pong" tournament in April. The contest pitted four student teams' autonomous robots against one another to see which could gather and carry the most small plastic balls to the opponent's side of a mini tennis court. The robots had no wires and no remote controls. All controls were internal. The robots had light sensors to indicate location and guidance, ball scoop and storage systems and timers that controlled the robot's movements. The winning team's robot snared 51 ping pong balls. The students are in the ECE class "Fundamentals of Autonomous Robots," taught by assistant professor Tamer Inanc. They used LEGO robotic invention system kits as a base for design.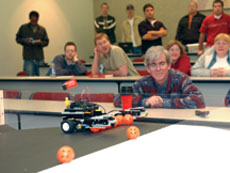 Professor and acting department chair Jacek Zurada was one of just two Americans elected this year as a foreign member of the Polish Academy of Sciences, that country's most prestigious scientific academic body. The distinction recognizes Zurada's accomplishments in the study and application of neural networks and artificial intelligence.
Professor Kevin Walsh and graduate research assistant Rekha S. Pai published a paper on their micro-electro-mechanical systems (MEMS) work in the June issue of the Journal of Micromechanics and Microengineering. The paper is titled, "The Viability of Anisotropic Conductive Film as a Flip Chip Interconnect Technology for MEMS Devices." It can be read on the journal's web site at: http://www.iop.org/EJ/journal/JMM.
Industrial Engineering
Graduate student Adam Wiseman not only helped Ford Motor Co.'s Kentucky Truck Plant save money, he also was recognized for his presentation of how it was done. Wiseman and the student colleagues he worked with on a senior-level Capstone Design project devised ways for the automaker to increase the number of vehicles moved each hour out of the body shop--saving Ford approximately $150,000 a year. The students spent several weeks at Ford analyzing industrial processes and identifying ways to improve workstation efficiency. They also ran computer models to prove their concepts. Wiseman's presentation of the project recently won the Institute of Industrial Engineers Region 4 Student Technical Paper Competition held at Western Michigan University in Kalamazoo, Mich. The paper was co-authored with four other Industrial Engineering students: Cindy Edlin, Robbie Turner, Adam Ganoe, and Mike Jackson.
Professor Emeritus Thomas Ward received the G.C. Heyde Award from the International MODAPTS Association for his "contributions, promotion and proliferation of the MODAPTS language for understanding work." MODAPTS, or MODular Arrangement of Predetermined Time Standards, is a time system used in calculating production standards and improving an organization's productivity.
Professor John Usher became department chair, replacing Suraj Alexander, who will continue in his teaching and research posts. In May, Usher received the Institute of Industrial Engineers (IIE) Fellow Award for his service and leadership in the industrial engineering profession. Usher is the fifth member of the department to be recognized as an IIE Fellow. "I am shocked and thrilled to hear this great news," Usher says. IIE is the world's largest professional membership society supporting industrial engineering and individuals involved with improving quality and productivity.
Mechanical Engineering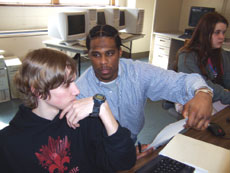 Civil and environmental engineering junior and KPPC co-op student Brandon Burfict (right) gives a few pointers to Brian Valentine, a freshman at the J. Graham Brown School, during energy audit training.
The auto industry and the U.S. Army want safer, fuel-efficient, durable, corrosion-resistant, lighter-weight and low-cost trucks for military and commercial uses. Since 2000, U of L has teamed with the Army, Ford Motor Co. and other partners to meet these vehicle-design needs through an ongoing research project called IMPACT (Improved Materials and Powertrain Architectures for 21st Century Trucks). Department chair Glen Prater heads the multimillion-dollar project. Sen. Mitch McConnell has been key in securing the federal funding. Prater recently received part of a $1.5 million army grant to develop software used in assessing and designing stronger and easier-to-manufacture vehicle structures. Mechanical engineering students comprise most of Prater's study team. The skyrocketing cost of gasoline has made fuel efficiency for military vehicles even more important.
Kentucky Pollution Prevention Center (KPPC)
The high cost of energy has many people scrambling to find ways to save on wattage and lower their bills. Some U of L students, including several from Speed School, recently teamed with Louisville area high school students and KPPC engineers to audit the energy efficiency in buildings operated by the Jefferson County Public Schools, U of L and Louisville Metro government. Three teams examined utility billing, heating/cooling systems, lighting, office equipment, and other factors in each facility. The audits, sponsored by the KPPC, are part of a larger environmentally friendly initiative known as the Partnership for a Green City. To read more, access the Spring 2005 edition of the KPPC's The Bottom Line at: www.kppc.org.

Return to Top

Table of Contents