Current Issue
(Fall 2005)

Table of Contents
BWISE Energizes African American Women Students
It's not every day that you discover a patron saint wandering through your hallways. So when a colleague came into Brenda Hart's office with Sharon Harper in tow, Hart didn't know what to think.
The Speed School professor of engineering education and director of student affairs recalls, "It was late on a Friday and Faye [Collett-Sutton] saw Sharon in the hall reading a bulletin board. She brought her in to me after Sharon said she wanted to help African American students.
"I had no clue if it was legitimate," Hart adds with a laugh.
Two years and several thousand dollars in scholarships later, Hart knows that Harper is for real.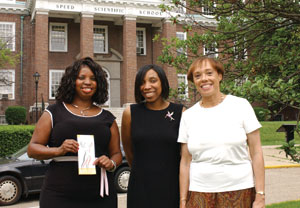 Civil engineer Sharon Harper (left), co-founded the BWISE scholars program to support the education of young African American women engineering students such as Tracey Miles '01S, '03GS (center). Brenda Hart (right), professor of engineering education and director of student affairs, administers the program at Speed.
Harper, a civil engineer, is one of three women behind BWISE (Black Women In Science and Engineering). The group works with organizations and corporations to encourage and support professional African American women of slave descent in the sciences, engineering and medicine.
Kim Smith, who runs her own IT company in Greenwich, Conn., and Yvonne Clark, a professor of mechanical engineering at Tennessee State University, are Harper's BWISE cohorts. "The fact that Professor Clark is an educator, Kim is in the corporate world and I come from a public works background gives us all a different perspective that benefits BWISE," Harper believes.
The idea for BWISE grew from conversations between Smith and Harper when the two used to work together. "We thought who better to help us pull it together than Dr. Clark?" Harper says of her former professor. "I was living in Louisville by this time and Dr. Clark is from here, plus she was the first black female licensed engineer in the country."
So they enlisted Clark's aid—and BWISE took off.
They also teamed with the Tuskegee Institute to research how many African American females are working and staying in science and engineering.
"The work gets stagnant for many black females and we lose them along the way to other careers," Harper notes. "We wanted to know how much this was happening and why, but we also felt that increasing the retention rate should be a part of it, too. That's become a major focus for us."
Since its formation in 2002, BWISE has awarded more than $75,000 in scholarships, loans, donations and community-based grants to groups such as INSPIRE, a program that encourages minority high school students to explore engineering careers. Other beneficiaries include The National Society of Black Engineers, YMCA Black Achievers, Youth Alive! and Zeta Phi Beta.
In addition to U of L, scholarships have gone to about 15 students at the University of Tennessee-Knoxville; Harper's own alma mater, Tennessee State; and the Tuskegee Institute. Harper says they plan to expand to other universities once their current scholarship awards system is solidified.
Tracey Miles '01S, '03GS, a 2003 graduate of Speed's industrial engineering program, is a former BWISE scholar. Today she works as a project engineer in the Louisville office of Fuller, Mossbarger, Scott & May Engineers. She says her scholarship was critical in financing her graduate year.
"I was just coming off a co-op and doing the jump from undergrad to graduate," she says, when Brenda Hart told her about the new scholarship program. So Miles wrote a one-page essay about how the sciences influenced her and interviewed with Harper. It worked.
Harper says Miles is the type of student they seek—someone interested in a science-based career who exhibits staying power.
"Some of our students are 3.8 GPA people, some are not," Harper adds. "We don't use that as the main criterion. What we look for is a good solid student and then our emphasis is on them not just getting into the profession but staying there."
Tiffani Jackson '03S also is sold on BWISE. A Speed graduate student majoring in mechanical engineering, Jackson has benefitted from two semesters of BWISE support. "I couldn't work as much this year because I'm full-time now, so the scholarship was a big help," she says. "It helped cover tuition and my books, which are expensive."
Jackson adds, "I'm extremely grateful for the scholarship and because BWISE recognizes that women are in the field—including black women."
That's what Harper and her BWISE colleagues want to hear. "You really feel alone as a black female engineering student," Harper says of her college days. "But we want to show these young women that there are plenty of interesting career choices in science and that you can succeed there, too."
Eventually, Harper wants to return to civil engineering full time and open her own firm. For now, she's busy promoting BWISE and working out its future plans. These include:
creating a fellowship for research on the workplace retention of African American females
developing a mentoring system for African American females in the sciences
developing a pilot summer science program for inner-city youth with Youth Alive! that can be adapted easily to other programs, too
working with U of L chemistry professor Tom Crawford to increase the number of African American children participating in science fairs
"And," Harper adds with a laugh, "there's always fund raising, fund raising, fund raising."
For information on upcoming BWISE fund-raising events—including a Fourth of July yacht cruise on the Ohio River—or to learn how you can assist BWISE, e-mail Harper at bwise133@aol.com or phone her at 502-417-2863.

Return to Top

Table of Contents