Current Issue
(Fall 2005)

Table of Contents
Cowan Named Distinguished Alumnus
For his support of the Speed School of Engineering and exemplary career achievement, Everett Cowan '69S has received the school's 2004 Distinguished Alumnus Award.
Cowan is president and chief operating officer of Gresham, Smith & Partners, an architectural and engineering firm with more than 600 employees. The firm, headquartered in Nashville , has 14 offices in nine states.
Cowan received the award at a reception in May at the Brown Hotel in Louisville.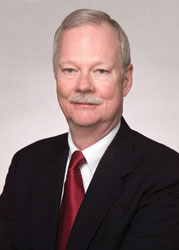 "It is a tremendous honor being named the Distinguished Alumnus by the University of Louisville Speed School of Engineering," Cowan says. "I have great respect for this institution, which in addition to educating me did the same for two of my sons. I try to never forget that any success I have had in my career started at the university."
Cowan previously received the Professional Award in Engineering from Speed in 1989 and was named a U of L Alumni Fellow in 2000.
The Tennessee Society of Professional Engineers named Cowan its "Engineer of the Year" in 2002.
After graduating with a civil engineering bachelor's degree from Speed in 1969 and serving a co-op at the Louisville engineering firm of Miller, Wihry & Lee, Cowan moved to Nashville in 1970 and eventually became managing director at the firm's branch there.
From 1982 to 1989, Cowan was president of MCI Consulting Engineers. In 1989 he joined the Gresham firm, eventually becoming president.
Cowan is a member of six professional engineering societies and several other professional organizations.
Cowan and his wife, Katheryne, wed in 1973 and have raised three sons. Their oldest, Chris '91S, '92GS, is a transportation engineer at Gresham . Son Jeffrey is head football coach at Franklin Road Academy, a junior high school in Nashville.
The Cowans lost their youngest son, Matthew '02S, '03S, 22, in an auto accident in spring 2003. To honor his memory the family established the Matthew Aldridge Cowan Scholarship Fund to support civil engineering master's students and a doctoral fellowship. So far the fund has been a great success, raising more than $500,000, which will be matched by the state's "Bucks for Brains" program.
For the full story on the scholarship fund and a list of donors, visit: www.give.louisville.edu/legacy.htm

Return to Top

Table of Contents