Current Issue
(Fall 2005)

Table of Contents
Speed News
Chemical Engineering
Associate professor Mahendra Sunkara is leading a team of U of L and University of Kentucky colleagues in bringing nanotechnology research to the marketplace to boost the state's high-tech economy. The study group recently received a $40,000 grant from the Kentucky EPSCoR (Experimental Program to Stimulate Competitive Research) program to establish the University/Industry Collaborative Research Center in Materials Nanotechnology. The universities will work with industry partners including Süd-Chemie Inc. and Valvoline to define the center's duties and solidify partnerships between education and industry. Nanoscale materials such as carbon nozzles, nanopipettes, nanowires and nanotubes have wide potential application in computing, medicine and more.
Evangel Christian School junior Tim Wrocklage and colleague J.T. Bayes (not shown) built an 'Eiffel Tower' with drinking straws to support a tennis ball during a competition at Speed's Engineers' Days March 26. The contest was one of many during the two-day annual E-days event that showcases the talents of students from Speed and area high schools.
Civil and Environmental Engineering
Professor J.P. Mohsen was elected the PIC (Professional Interest Council) I chair on the American Society for Engineering Education's board of directors. His term will run from 2004 to 2006. In his post, one of the highest elected positions in the ASEE, Mohsen will oversee the activities of 11 divisions in the national professional organization.
Computer Engineering and Computer Science
Olfa Nasraoui has been named the endowed chair in e-commerce in computer engineering and computer science as well as an assistant professor in the department. The $2 million chair was created with a 2001 bequest from the estate of Charles and Theresa Grosscurth (both '91AD) and matching funds from the state's "Bucks for Brains" program. Also joining the department as assistant professor is Nasraoui's husband, Hichem Frigui. Both currently are on the faculty at the University of Memphis and will assume their Speed posts in August. They have received prestigious National Science Foundation early career development awards and have published prolifically. A major research focus for the pair is mining data on the Web to boost e-commerce. Nasraoui has studied ways to gather information about Web users while protecting their privacy.
Department chair Adel Elmaghraby has been appointed chair of the software systems award committee for the Association for Computing Machinery, a 75,000-member organization for IT professionals and students. The award will be announced in June.
CECS doctoral student Erin Rickard recently won the best student paper award at the IEEE EMBS Special Topic Conference on Information Technology Applications in Biomedicine in Birmingham , England . The paper, "Self-Organizing Maps for Masking Mammography Images," was co-authored by Elmaghraby and Georgia D. Tourassi of Duke University.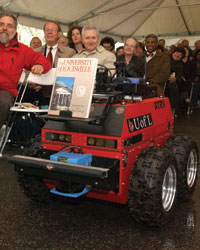 A robot modified by students and faculty from the Speed School of Engineering's Computer Vision and Image Processing Laboratory maneuvers through the crowd to deliver a book to Hannelore Rader, dean of U of L Libraries. The event was part of an April groundbreaking ceremony for a 42,000-square-foot addition to Ekstrom Library. The robot's sensor systems were designed and programmed by professor Aly Farag and graduate students Alaa El-din Aly, Emir Dizdarevic and Zlatko Sisic, along with Mike Miller and Chuck Sites of Farag's research staff.
Electrical and Computer Engineering
Associate professor John Naber and professor Kevin Walsh have teamed up with other biomedical researchers to fight glaucoma. They're working with Robert Keynton, associate professor in mechanical engineering, and Hank Kaplan, chair of the department of ophthalmology and visual sciences in the medical school, on the development of a biosensor that continuously monitors intraocular pressure within the eye. The biosensor could set a new standard of care for the 60 million people diagnosed with the condition. The study partners have formed a medical technology startup company, Assenti LLC, to help bring the device to market. The company is funded with a three-year $225,000 grant from the Kentucky Science and Technology Corp. and a two-year $500,000 grant from the National Institutes of Health's Small Business Innovation Research program.
Food Processing Program
Students interested in working in the food industry may soon get scholarship assistance. Program director Charles Staff is working on a collaborative effort with Sullivan University in Louisville and the University of Kentucky to establish the Clair L. Hicks Food Science Fund to provide scholarship assistance to help students studying in food-related programs such as food science, engineering and chemistry. The endowment will be managed by the Louisville Community Foundation. Final details of the scholarship are being worked out, Staff says.
Industrial Engineering
Professor Waldemar Karwowski's International Encyclopedia of Ergonomics and Human Factors won best reference award from the engineering libraries division of the American Society for Engineering Education. Karwowski is working on a second edition of the encyclopedia to be published by CRC Press/Taylor & Francis in 2005.
William Biles, the Edward R. Clark Professor of Computer Aided Engineering, recently received the Distinguished Engineering Alumni Academy Award from his alma mater, the College of Engineering at the University of Alabama at Huntsville . The award recognizes career and professional achievement.
Mechanical Engineering
Top astronomical scientists will enjoy the terrestrial hospitality of Louisville while attending the 36th Annual Meeting of the Division for Planetary Sciences of the American Astronomical Society Nov. 8–12 at the Kentucky International Convention Center . The department is hosting the gathering of scientists. One of the hot conversation topics is expected to be the Cassini-Huygens orbiter that will reach Saturn this summer, says associate professor and meeting chair Tim Dowling. Meeting information is at: http://dps04.org/.
Undergraduate Scott Cambron won a major international award for his paper "Fabrication of Ti Retinal Microtacks Using an Ultra-High-Precision Micromilling Machine." He won first place in the bioengineering B.S.-level student paper competition last November at the International Mechanical Engineering Congress and Exposition Conference in Washington , D.C. The competition was sponsored by the bioengineering division of the American Society of Mechanical Engineers and included papers from students around the world. Cambron presented his paper and received a certificate and $300 honorarium. Cambon's work to develop a retinal microtack is part of a major project to develop an artificial retinal implant to restore vision. The project is a collaboration between faculty and students in Speed and the U of L School of Medicine as well as other universities. Cambron also exhibited his microtack work at the U of L undergraduate research symposium in April.
Kentucky Pollution Prevention Center (KPPC)
The KPPC, under subcontract to the University of Tennessee , is helping the U.S. Department of Defense develop a "deconstruction manual" to provide guidelines on how to disassemble military buildings. A key goal of deconstruction is to recover as much of the building material as possible for reuse or recycling. KPPC is co-hosting workshops for contractors on military building deconstruction, too.
The KPPC also is working with the Defense Department to help military bases in the Southeast reduce waste and save costs by implementing environmental management systems. The KPPC is helping the military create action plans and train personnel so that military installations can meet a regulation that requires federal facilities to implement an environmental management system by 2005. For more information on KPPC's programs, go to: www.kppc.org.

Return to Top

Table of Contents