Current Issue
(Fall 2005)

Table of Contents
Major Grant to Boost Tiny Device Studies in New Research Building
Construction of the $41 million Belknap Research Building is well under way near Brook Street on Belknap Campus. Slated for 2005 completion, the facility is designed to promote interdisciplinary research and fuel new ventures.
A major part of the building will be the state's largest controlled-environment laboratory, or cleanroom, where researchers will fabricate, package and test microelectronic devices and circuits.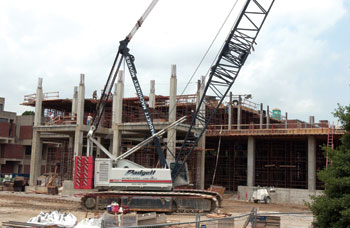 As shown in this photo taken in May, crews are making fast progress on construction of the Belknap Research Building, slated for 2005 completion. The facility will put help U of L at the forefront in many high-tech research areas, such as in the development of tiny electronic devices.
Three Speed researchers recently received a $1.7 million grant from the Health Resources and Services Administration of the U.S. Department of Health and Human Services to support cleanroom research. The grant will provide for the purchase of key research equipment for the new 8,000-square-foot, class-100 Cleanroom Core Facility. It will promote research in MEMS (micorelectromechanical systems), bioMEMS, nanotechnology, optics, chemistry, physics and medicine.
The award's recipients are Kevin Walsh, professor in electrical and computer engineering, Mark Crain, research engineer and cleanroom manager, and Dr. Robert Keynton, associate professor in mechanical engineering. The grant was obtained through the support of Sen. Mitch McConnell.
The cleanroom's equipment will include an e-beam evaporation system, a sputter deposition system, programmable tube furnaces and various state-of-the-art test/characterization equipment. The cleanroom will be available to all U of L researchers and others in Kentucky.
The researchers say the U of L cleanroom will be one of the top 10 such facilities in the nation's universities.

Return to Top

Table of Contents