Current Issue
(Fall 2005)

Table of Contents
Wilhelm to Head Speed School of Engineering
Mickey R. Wilhelm, acting dean and longtime industrial engineering professor and administrator at U of L's J.B. Speed School of Engineering, is the school's new permanent dean.
The U of L Board of Trustees approved Wilhelm's appointment May 13.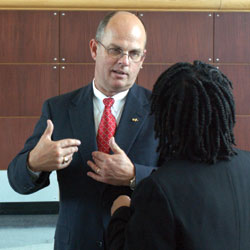 Speed's new dean Mickey Wilhelm shared his ideas about the school's future at a reception in Paul Lutz Hall on May 14.
A member of U of L's engineering faculty since 1975, Wilhelm has been acting dean since Thomas Hanley's 2003 departure to become Auburn University provost. Wilhelm's recent additional appointments have included associate dean of engineering since 1995 and director of programs for U of L's Logistics and Distribution Institute since 2002; previous posts at U of L have included industrial engineering department chairman.
"Dr. Wilhelm is an experienced administrator who in a short time has helped us advance significant economic development partnerships like the Cardiovascular Innovation Institute, which requires an emphasis on bioengineering," said U of L President James Ramsey. "His appointment will ensure that the Speed School will have a healthy future."
"He is known for his openness," added Provost Shirley Willihnganz. "Dr. Wilhelm is a collaborator who is respected across the university for his accessibility and leadership."
"I am deeply honored to have been entrusted to lead this venerable engineering school," Wilhelm said. "I look forward to working with my faculty and staff colleagues as we educate our outstanding students, increase our research productivity, focus on building diversity and enhance our many partnerships with organizations throughout the Louisville Metro area and the state."
A licensed professional engineer, Wilhelm also is a researcher and consultant in facilities planning and design, materials handling, systems analysis and industrial engineering. In the early 1970s he taught at The University of Alabama in Huntsville , where he earned his bachelor's, master's and doctoral degrees and where, in March 2004, he received the Alumni of Achievement Award.
Wilhelm was visiting faculty fellow at the Center for Economic Research at Tilburg University in the Netherlands during his 2001 sabbatical from U of L and was a summer research faculty fellow at the George C. Marshall Space Flight Center in Huntsville, Ala. He was elected as a fellow of the Institute of Industrial Engineers and the World Academy of Productivity Sciences. Wilhelm also serves on the board of the Greater Louisville Inc. Logistics Network.

Return to Top

Table of Contents