Current Issue
(Fall 2005)

Table of Contents
Winnia Fellowship Is Legacy for Students
Civil engineering graduate Paul Winnia '30S was an ardent Cardinal basketball fan. So much so that he often joked he would leave his estate to U of L "so they can improve their players and have a winning team," remembers his nephew, Richard Adams Jr.
"Of course, it was just a ruse," Adams says.
Prior to their deaths Winnia and his wife, Constance , left an $800,000 trust to support student scholarships in the Speed School of Engineering. The Paul E. and Constance Winnia Fellowship will provide a graduate-level scholarship for engineering students.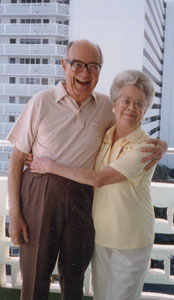 An only child who was orphaned at a young age, Paul Winnia understood firsthand the importance of a college education. He was raised in the Louisville area by two aunts and worked his way through school. After graduating from the Speed School in 1930, he joined Reynolds Metal Co. (now part of Alcoa). He worked for the company for 40 years, retiring as a senior engineer.
"He did quite well for himself," Adams says, "and he wanted students to have the same opportunities he had."
Winnia and Constance ("Connie") met in Louisville in the 1940s when both worked for Reynolds. They later moved to Richmond , Va. , where Paul worked at the company's corporate headquarters. They had no children but took a great interest in encouraging young people to complete their college degrees. Adams remembers the Winnias helping the children of co-workers attend college.
"Paul always had a soft spot for the University of Louisville , and he wanted to do something to assist kids to become engineers," Adams says.
Winnia established a charitable remainder annuity trust, which provided his wife with lifetime income after his death in 1991. When Connie died in 2002 the trust reverted to the Speed School . The school received the gift this past February.
"Mr. Winnia's gift is a wonderful example of what can be accomplished with a charitable remainder trust," says Jack Roby, director of development for the Speed School . "The trust provided an income for Mrs. Winnia and will now fund a fellowship for Speed School students."

Return to Top

Table of Contents