Current Issue
(Fall 2005)

Table of Contents
Skeletal Enigma: Researchers Delve Into Bone's Inner Maze
The inside of human bone is porous, made up of an array of intersecting bars and plates that resemble the flying buttresses, latticework and arches in a gothic cathedral.
As humans age, this "micro architecture" can thin, leading to fractures or breaks.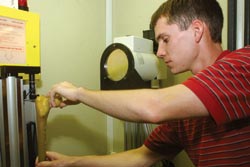 Mechanical engineering master's student Michael Pecore loads a bone specimen for analysis in an advanced micro-computed tomography scanner used by biomechanics researchers, including mechanical engineering professor William Hnat (below).
Bone damage caused by osteoporosis or other musculoskeletal conditions often can be difficult to heal. This problem intrigues William Hnat, professor of mechanical engineering at Speed and research associate in orthopaedic surgery at U of L's School of Medicine.
Hnat and his research partner, Michael Voor, now have a powerful new tool that could lead to a better understanding of how bone can change over time and what therapies could best be used to treat damaged bone. Voor is associate professor and director of research in orthopaedic surgery.
With a $350,000 National Science Foundation grant and U of L matching support of $150,000, Hnat and Voor were able to buy one of the most advanced micro-computed tomography scanners available.
The machine can take extremely high resolution pictures deep inside the bone, allowing researchers to create detailed three-dimensional computer models for study. Taken in a series, these images can give scientists clues about how bone changes over time.
"We're trying to find out how the bone remodels itself under different conditions, especially in the development of osteoporosis," Hnat says.
The scanner is part of the orthopaedic biomechanics laboratory, which opened at the medical school in fall 2002. Voor is the lab's director.
In the past, bone analysis has involved testing density to determine its quality. But research suggests that strength, stiffness and the micro architecture of bone are equally important factors in assessing fracture risk.
"We must understand the mechanical behavior of bone under different conditions and in living models that resemble human bone," Hnat says. Animal models' femurs will be studied with the new machine, he adds.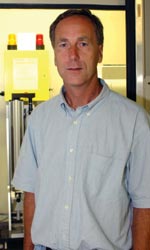 William Hnat
The studies could help doctors develop therapies or regimens to help patients with hip replacements or bone grafts to slow or stop bone loss.
"If bone is not remodeling—rebuilding its strength, density or structure—then what can we do to improve it? Is there a better way to load the bone graft while it is healing, for instance?"
With the scanner, the researchers might be able to see how well various bone substitute materials fare over time inside the body. Drugs designed to prevent or reverse osteoporosis also could be studied.
Hnat is one of several Speed School researchers working on biomechanics research projects with faculty colleagues at the Health Sciences Center. Biomechanics research was identified as an ongoing area of growth by Speed's recent dean, Thomas Hanley.
Students also benefit. Hnat says four new mechanical engineering students, including three pursuing Ph.D. degrees, are participating in the research.
"This scanner has sparked a lot of new research," Hnat says. "Some medical researchers are using it to detect tumors in animal models.
"I don't think we've touched the surface of what this system is capable of."

Return to Top

Table of Contents