Current Issue
(Fall 2005)

Table of Contents
What's New?
New is today's buzzword at Speed.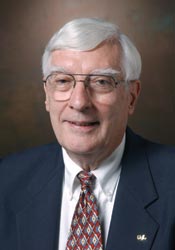 We have a new incoming class, a new university president and now a new name, shorn of the outdated "Scientific." We also will have a new dean soon.
And you have me, your new Speed Alumni Council president for 2003–2004. That is, if you can refer to somebody as "new" who remembers when Speed freshmen in the 1930s wore beanies with the insignia S3 and who just ran his 50th-year college class reunion.
New can be good, but it also means more challenges for our alumni association.
Unfortunately, Dean Tom Hanley has moved on to become provost at Auburn University. In his 12 years at Speed, Tom strengthened our school and we wish him well. Tom's desire that we reach more alumni should remain a major objective.
And we must continue to attract and support the brightest and best students.
We do this through:
Mentoring
Speed's mentoring program brings faculty and alumni together with students to help them meet their academic and career goals. To help call our mentoring chair, Jana Godwin, at 502-561-2554.
Scholarships
We attract worthy students by screening applicants, building scholarship funds and honoring recipients. Interested? Call Jay Mazzoni at 502-253-2500.
Engineers' Days
We support Engineers' Days with Speed's student council by providing project judges. The event lets us meet students and families and renew ties with faculty and alums. For details, call Marcia Brey at 502-339-3437.
Publicity
We always need ideas and help to spread the word about Speed. Interested alumni volunteers should call our publicity chairman, Phil Hambrick, at 502-426-7770.
Membership
Alumni interested in being a member of the alumni council or volunteering to help should contact our outstanding past council president Ralph Rice at 502-634-9485.
Funding
We work with the advancement office to raise money to boost Speed's level of excellence.
The Ernst family is not new to Speed. My father Robert C. Ernst was dean from 1947 to 1969 and had an honorary degree. My brother, my daughter Jane and I all have Speed degrees.
Whether you're old or new to Speed, the old fogies among us welcome you with a renewed enthusiasm for our school.

Richard Ernst '53S,
President, Speed School Alumni Council
502-458-1413

Return to Top

Table of Contents