Current Issue
(Fall 2005)

Table of Contents
Cowan Fellowship to Help CE Grad Students
Already at age 22, Matthew Aldridge Cowan '02S, '03S had built a record of personal and professional achievement that would do many an older Speed School alumnus proud.
"We called him 'Rolodex' because he was always networking and meeting with the movers and shakers," says Cowan's best friend, Michael Sewell.
Cowan, a Speed School student, was just a month away from graduating with a master's degree in civil and environmental engineering when he died April 1, 2003, from injuries sustained in a car accident.
To honor his memory and perpetuate his "can-do" attitude, Cowan's family and friends are establishing the Matthew Aldridge Cowan Endowed Fellowship. The fellowship will support a graduate student in civil engineering who exhibits Matthew's qualities of leadership, scholarship, volunteerism and commitment to others.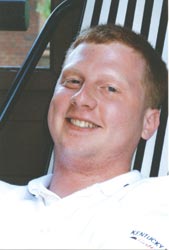 Speed alumnus Matthew Cowan did much in his brief life. Now a fellowship in his name established by family and friends will help graduate students in civil engineering who show leadership abilities.
A native of Brentwood, Tenn., Matthew followed in his father's and older brothers' footsteps and attended Speed School, earning his bachelor's degree in civil engineering in 2002. After graduation he worked as a transportation engineer with Gresham, Smith and Partners in Louisville and continued his graduate studies.
Matthew was a leader in the civil and environmental engineering department who served as president of the U of L student chapter of the American Society of Civil Engineers. He also was a member of the student chapter of the Kentucky Society of Professional Engineers and the Young Professionals Association of Louisville. He volunteered with Habitat for Humanity and mentored children interested in math and science.
In recognition for his contributions to the Speed School and the engineering profession, he was awarded his master's degree posthumously.
Sewell describes Cowan as a "true professional" and popular student who had a tremendous impact on his classmates.
"Matthew became involved in professional organizations as an undergraduate—much sooner than the rest of us," Sewell says.
Sewell adds that Cowan's example prompted many Speed School students to join professional associations and take their future seriously.
"He was a very good example for his friends. Because of his influence, we became much more serious about our careers and engineering as a profession."
Cowan's mother, Katheryne Cowan, says her son was a natural leader who had a genuine concern for others.
"His leadership tendencies surfaced all the way back in fifth grade when Matthew started working as the assistant football manager," adds Cowan's father, Everett. He is president and COO of Gresham Smith and Partners in Nashville.
"All during high school he was the student manager for the team," he adds. "They still credit Matthew for organizing that function in a way that they utilize to this day. He was a get-it-done kind of guy."
To date family and friends have committed $425,000 to the fellowship account. To endow the account, $500,000 is needed. This will support the fellowship for civil engineering students in perpetuity.
"Matthew was destined to do great things in the future, and there is a void out there of things he will never be able to do," says his father. "This fellowship is a way to help have something good come from his memory. We think there will be a string of young people who will have benefited from Matthew's life."
To discuss giving opportunities, contact Jack Roby, director of development for the Speed Scientific School, at 502-852-6982 or e-mail jroby@louisville.edu.

Return to Top

Table of Contents