Current Issue
(Fall 2005)

Table of Contents
Staying the Course of Success
As noted in the article on Page 1 in this edition, Dean Thomas Hanley has departed Speed School. The university provost has asked me to serve as interim dean while a national search is conducted to find the next dean.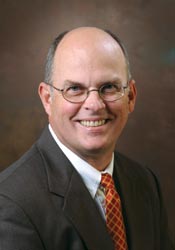 For those of you who may not know me, I have been a Speed School faculty member for more than 28 years. During my tenure, I have served as chairman of the department of industrial engineering for seven years, and I have worked with Dean Hanley as associate dean of engineering for the past nine years.
In this interim period, we will heed the parting advice of Dean Hanley and attempt to solidify our hard-won gains over the past several years.
Of course, we will strive to maintain our academic strengths in order to produce outstanding engineers. We will take steps to increase our research capabilities and infrastructure. We will work with our faculty and administrative colleagues from across the university to help achieve our shared mission of becoming a major metropolitan research university. And we will assist with the economic development of the metropolitan Louisville region as well as the commonwealth of Kentucky.
Recent economic forecasts predict challenging financial times in the state for the remainder of the current fiscal year and for next year as well. Projected shortfalls will make it quite difficult to maintain our strengths and to grow, even modestly. But Speed alumni have always been devoted supporters of the school, and I trust that we can count on you in the challenging times ahead.


Mickey Wilhelm
Interim Dean

Return to Top

Table of Contents