Current Issue
(Fall 2005)

Table of Contents
News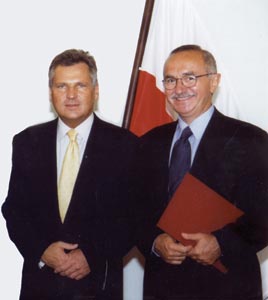 President Aleksander Kwasniewski (left) of Poland presented professor Jacek Zurada with that nation's highest academic award in a ceremony in July 2003. Zurada, a Polish native, was recognized for his research and professional achievements. He is the Samuel T. Fife Professor of Electrical and Computer Engineering at Speed and an expert in the application of neural networks and artificial intelligence to biomedicine and many other fields.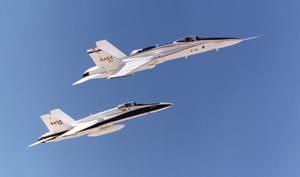 An Active Aeroelastic Wing F-18 aircraft (top) is shadowed by another F-18 during a test at NASA's Dryden Flight Research Center in California . Mechanical engineering assistant professor Christopher Richards is helping NASA investigate the plane's wing "warping" as a means to control the roll and pitch. Richards spent 10 weeks this past summer at Dryden, where he identified mathematical models from experimental flight data to better predict an aircraft's flight envelope or the variable conditions in which it can safely fly. (Photo courtesy of NASA)
Students Place First in National Competition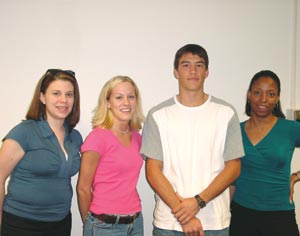 Audio component maker Sonic Speakers of Cudahy, Wis., needed an efficient design for its new manufacturing, warehouse and distribution facility. That challenge was the test question for industrial engineering students nationwide as part of the 2002–2003 National Student Material Handling Design Competition. A team of U of L students' submission tied for first place in the competition with teams from Virginia Tech, Texas A&M University and Montana State University. The contest was a class assignment for U of L's Nikki Lenihan, Cindy Edlin, Tim Whitfill and Brandi Hill (pictured left to right). The team worked on the problem for five weeks. One of their designs showed how an assembly line could produce the company's full line of speakers in a more streamlined way. When the summer 2003 results came in, they had won the $750 prize and an additional $375 for the IE department. Professor John Usher was the team's faculty adviser. The contest was sponsored by the Material Handling Industry Industry of America, a non-profit trade association, and the College-Industry Council on Material Handling Education, an independent organization supporting material handling education and research.

Return to Top

Table of Contents