Current Issue
(Fall 2005)

Table of Contents
"Thackered:" Alumnus Rewarded For Cleaning Creek
"People before fish!"
Coal Creek-area residents once greeted Barry Thacker, P.E., with protest signs and chants blaring out that message. In this impoverished Tennessee community Thacker was an "outsider," the "enemy" from the big city of Knoxville—a fish out of water—despite the fact that he had come there with the best intentions.
Today, things are different. Church ladies—the same ones who used to angrily wag their fingers in Thacker's face—ply him with pans of fresh-baked cornbread. To be "Thackered" (recruited as a community volunteer) is a huge compliment. He's the adopted son of this reclusive locale, noted in history for its coal mine disasters and violent strikes.
Thacker '76S, '77GS also has received a host of awards for his work there, including one of the most prestigious bestowed by the engineering profession, the Hoover Medal, which he accepted in November. The medal, established in 1929, is conferred upon an engineer whose work has advanced humankind. In accepting it Thacker joins the ranks of past recipients such as Herbert Hoover, Frank Jewett and Dwight D. Eisenhower.
The 2002 ASFE Founders Award and Speed School 's 2001 Professional Award in Engineering are just a couple more of Thacker's kudos.
But just as significant is the nickname Coal Creek residents have bestowed upon Thacker—he's the "Don Quixote" of their world.
Still, the Louisville native and Speed School graduate says only half-jokingly about his early reception in Coal Creek, "It explains why people are more willing to volunteer to save the whales than to help people. Animals don't put up protest signs and tell you that you don't know what you're doing."
From Trout to Clout
What Thacker had planned on doing before the citizens of Coal Creek "enlightened" him was to make the creek's tributaries suitable for his favorite passtime—trout fishing. To do this he would have his engineering company, Geo/Environmental Associates, Knoxville, tackle the acid that was draining from Coal Creek's numerous abandoned mines into its watershed.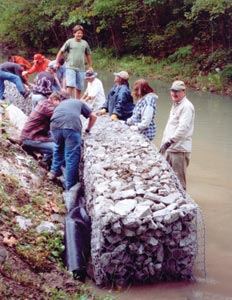 Alumnus Barry Thacker (far right) works with young people as part of his campaign to clean up Coal Creek near Oak Ridge, Tenn. For his efforts, Thacker was awarded the prestigious Hoover Medal.
But irate residents soon convinced Thacker that they had much bigger problems than a dearth of good fishing holes. Widespread flooding, inadequate health care and education, unemployment and illegal trash dumps were just a few. Forty percent of their children were living in poverty and the per capita income was just over $9,900.
"Coal Creek is in the same county as Oak Ridge, which boasts more Ph.D.s per square mile than anyplace in the nation. But people here were still getting their drinking water from the creek," Thacker says.
So he decided to do something about it. His initial goal mushroomed from improving fishing to improving the quality of life for those throughout the 36-square-mile area.
Thacker began by forming the Coal Creek Watershed Foundation, made up of former enemies—the Coal Creek Flood Prevention Committee and Trout Unlimited and the Coal Creek Clean Stream Initiative. This gave them the clout needed to qualify for a FEMA grant to help fund their work. Next Thacker enlisted the aid of the American Society of Engineers, the Boy Scouts and others to help in the cleanup by removing debris that was blocking the water flow under area bridges.
"These railroad bridges were put in at the same time as the coal mines in the 1860s so they all had short spans that was trapping a lot of debris and deadwood," Thacker says. "We cleaned that up and now the water flows unobstructed."
The result?
Last year, even when the area experienced a 100-year storm, for the first time in many residents' memory there was no flooding.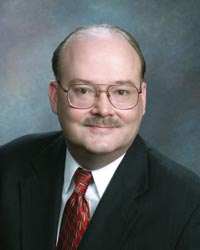 Barry Thacker
That's one example of the way that, in just three years, CCWF has made significant inroads into Coal Creek's problems. Along with flooding being almost a thing of the past, a study to transform the area's brownfields is under way and grants to prevent pollution and preserve the district's rich history have been secured.
But it's the children who are benefitting most. Volunteer health workers now provide free dental and medical exams at the Briceville Elementary School, and the town's free health clinic opens one day a week.
Thacker says he's most proud of the Coal Creek Scholars Program, which teaches the children about their heritage, health and the environment and provides college scholarships.
In fact, Thacker says that children are the reason why young engineers should be volunteering for community service projects.
"You get the opportunity to see younger students grow up, and you can take credit for the small part you play in their development," he explains.
Take the case of Jeremy, for example. A TVA representative made a presentation to Jeremy's fifth-grade class about environmental science as a career choice. At the end of the presentation he asked Jeremy if he would like to be one someday.
"No," Jeremy replied. "I want to be an engineer like Barry."
Jeremy, Thacker reports, is now a high school freshman and is scouting out colleges and universities with the other Coal Creek Scholars. And in a not-so-subtle hint Thacker adds, "Maybe we can get one of our Scholars a scholarship to U of L someday."
As for the rest of his Coal Creek work, it's not always easy to do what needs doing despite being a local hero.
"There are still plenty of times when I come across someone or something that makes me think about walking away from it all," Thacker admits. "Then I think about the kids, and the good overrides the bad. They make it all worthwhile."
For more information on the work of the CCWF visit www.coalcreekaml.com. or go to Geo/Environmental's site at www.geoe.com. To learn more about the Hoover Medal, visit www.asme.org/member/awards/hoover_medal/.

Return to Top

Table of Contents