Current Issue
(Fall 2005)

Table of Contents
Alum's Cutter Promotes Reuse of Old Carpet and More
George Sotsky '58S takes the concept of "chewing it up and spitting it out" to a whole new level as he continues to develop the Zoidal Cutter, the latest in industrial grinding technology.
For the past five years, Sotsky, president of Republic Machine in Louisville, and his team of developers have worked to perfect the industry's first single-shaft rotary cutter designed for film, fiber, rubber and composite material.
Recently Sotsky invited representatives of the Kentucky Pollution Center (KPPC) at U of L to Republic Machine, once of the largest manufacturers of single-shaft grinders, to see a demonstration of the cutter. He also wanted them to see how the machine's rotor/cutter/counterknife system not only advances the technology of industrial grinders, but also makes recycling and waste reduction a more feasible option for businesses.
The KPPC is interested in the cutter because of its waste-reduction potential. The machine fits with a KPPC goal of promoting technologies that allow old materials to be reused instead of dumped into landfills.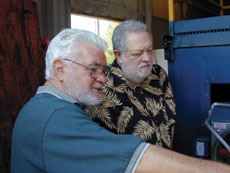 Speed alumnus George Sotsky points to his new Zoidal Cutter machine as Kentucky Pollution Center directory Cam Metcalf looks on.
According to Sotsky, the cutter is more efficient and effective than existing devices in shredding film, fiber, rubber and composite materials. These fine materials usually become tangled in the mechanisms of other grinders and frequently cause meltdowns or even critical failure of the entire machine. The cutter, with its patent-pending trapezoidal cutter and control system, runs at a lower speed, which leaves it less susceptible to meltdown.
The Zoidal Cutter can recycle such products as post-consumer grocery bags and post-industrial stretch wrap, both of which are processed at a rate of 4 tons per hour. The smallest version of the cutter also processes post-industrial flexible PVC. It processes these materials without tangling, wrapping, self-feeding and reversing--and does it at a third of the cost of other grinders, according to Sotsky.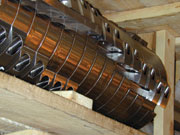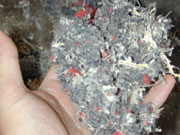 The single-shaft rotary cutter can shred and grind carpet (shown above) and other hard-to-recycle materials more effectively than existing machines, according to Sotsky, and could lead to more reuse and less dumping of materials.
"This is the first predictably successful type of cutter for these kinds of materials," says Sotsky, who also is a member of the Speed School's Industrial Board of Advisors. "We're excited about the positive impact this technology can have on industry as well as the environment."
The cutter is being used in a study funded by the U.S. Department of Energy and supported by the Carpet America Recovery Effort (CARE)--a voluntary initiative of the carpet industry and government to reduce the amount of carpet in landfills. In December 2003, Congress appropriated $300,000 to conduct the study, which examines the use of carpet as an alternative fuel source for cement kilns. As part of the study, the cutter is grinding carpet at a Pennsylvania cement plant. The ground carpet is then burned in the plant's kilns as a substitute fuel for coal.
Sotsky says preliminary study results look good. Research experts calculate that a cement kiln can burn at least 48 tons of carpet a day, replacing up to 15 percent of the coal burned as fuel. If only 10 kilns in the United States adopt carpet as an alternative fuel, about 40 percent of carpet would be diverted from landfills by 2012. Furthermore, it is estimated that by using 65 percent of all spent carpet as a fuel source, cement kilns can extract 31.2 million BTU's of energy annually.
Sotsky credits the education he received at the Speed School for preparing him for the challenges of his career. "The Speed School offers top-notch, broadscale education that prepares its students for the many different opportunities in the field of engineering," he says.
"George and his team have a lot to be proud of, especially their vision for beneficial reuse and sustainability," says KPPC executive director Cam Metcalf.

Return to Top

Table of Contents