Current Issue
(Fall 2005)

Table of Contents
From Young Minds, New Medicine
Program Helps Young Researchers Turn Ideas into Medical Products
As the pace of biomedical discovery quickens, the demand to bring lab ideas to the marketplace grows too.
One factor often overlooked in this race to patent new medical products has been the students who are often the backbone of university research efforts. U of L is looking to help students in biomedical research develop the entrepreneurial skills needed to take their ideas and turn them into commercial products. Cardiovascular devices being developed by students to improve the quality of life for heart patients are especially promising for commerical development, according to U of L researchers.
Now U of L has teamed with health-care research partners in the Louisville area to create what is being titled, "A New Paradigm for Entrepreneurial Discovery and Business Development." Partners in the project are U of L, Jewish Hospital, the state in Kentucky, MetaCyte Business Lab and the Cardiovascular Innovation Institute in Louisville.
One part of the project is an innovation training program in which bioengineering doctoral students in Speed School, who've begun research on heart devices, will be shown how to make their ideas commercially viable.
Project principal investigator and mechanical engineering associate professor Rob Keynton recently received a three-year, $600,000 grant from the National Science Foundation (NSF) to start the effort.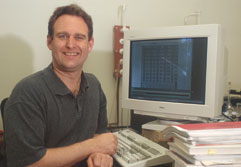 Speed's bioengineering director Rob Keynton is leading a project combining engineering and medicine that will help student researchers bring their cardiovascular technologies to the marketplace.
"These funds will help us develop entrepreneurial skills in bioengineering graduate students as well as other researchers in the Cardiovascular Innovation Institute," Keynton says. Keynton is Speed's director of bioengineering as well as the Cardiovascular Innovation Institute's interim scientific director.
The program also will award innovation discovery grants to researchers with the most commercially promising ideas.
"An innovation advisory board made up of the people from the partnership will look at each proposal from a student or institute researcher on a case-by-case basis and evaluate it to determine whether it is scientifically and entrepreneurially viable," Keynton explains.
NSF funds will be used as a challenge grant to raise private funds to support the development of products and biomedical business ventures. Already, Kosair Charities in Louisville had pledged $500,000 for the effort.
"Ultimately what we're looking for are products that have direct clinical application and helping someone start a company from that idea," Keynton says. The College of Business and Public Administration at U of L will play a key role in helping develop the business aspects of the program, Keynton adds.
"We want to bring together all these entities in the community to stimulate entrepreneurial activities in cardiovascular research and boost area economic development also," he says.

Return to Top

Table of Contents