Current Issue
(Fall 2005)

Table of Contents
KPPC Helps Businesses and Others Keep Energy Dollars from Blowing Out the Stack
You might not know Gulf States Paper Corp., but you'd likely recognize the containers made at its plant in Nicholasville, Ky., for Little Debbie snack cakes, Kroger ice cream, Kellogg's cereals and Keebler crackers.
In the paper-board packaging industry, profit margins are razor thin and competition is fierce, so cutting every possible cost is a must for the company, says plant environmental coordinator Chris Denham.
"One of our ideas is to save on our energy bills wherever we can," Denham says. Like all industry, Gulf States has been hit hard by a sharp rise in electrical and natural gas costs.
The plant looked to the Kentucky Pollution Prevention Center (KPPC) for help. Housed in Speed School's facilities in Lutz Hall, the KPPC helps Kentucky businesses find ways to prevent pollution and save energy. The KPPC's services are free, voluntary and confidential.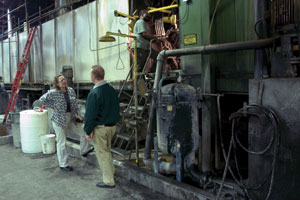 Sieglinde Kinne, left, an energy efficiency specialist with the Kentucky Pollution Prevention Center at U of L, shares ways to cut energy costs and improve plant efficiency with Jon Swindler, a manufacturing engineering manager at the Leggett and Platt plant in Simpsonville, Ky. The facility makes metal parts for reclining chairs.
During fiscal year 2003–.2004, the KPPC's Kentucky Energy Efficiency Program conducted 16 energy efficiency, or E2, assessments of private and public organizations and made recommendations that could save clients more than 17 million kilowatt hours of energy usage, which could translate into nearly $700,000 in total annual savings.
"Operating an organization as energy efficiently as possible saves money and protects the environment by reducing the burning of fossil fuels," says KPPC's director, Cam Metcalf.
Traditionally, businesses have treated energy as a fixed cost that needs to be paid without much scrutiny. But those attitudes are changing, says KPPC technical coordinator Richard Meisenhelder. "A lot of companies think they can't do anything about energy costs," Meisenhelder says, "but we try to tell them that they can implement some form of energy management to track what they're using and find ways to be more energy efficient."
Some solutions are cheap quick fixes, while others may be initially expensive investments that yield long-term, hefty cost savings.
In assessing the electric bill at the Johnson Controls plant in Cadiz, Ky., for instance, Meisenhelder found that the company qualified for a cheaper industrial rate than it was being charged. The mere conversion to the lower rate shaved 10 percent, or $100,000, right off the top of the plant's annual $1 million electric bill, he says.
KPPC energy efficiency specialist Sieglinde Kinne visited Gulf States for an assessment in August and carefully examined the plant's manufacturing processes, heating and cooling systems, lighting and records of past energy costs.
One of her first recommendations was that the plant change its 600 light bulbs from 400-watt metal halide bulbs to energy-saving 360-watt metal halide bulbs that provide the same amount of light while requiring no fixture changes. "When all the bulbs are replaced, we estimate we'll save about 65,000 kilowatt hours per year, or about $5,000," Denham says.
A change from propane to compressed natural gas in powering the hydraulics on forklift trucks will save the company another $18,500, he adds.
KPPC often recommends that its clients use timers and sensors on light fixtures that dim or turn off lights and programmable thermostats that lower the temperature when nobody is present. Gulf States is considering installing such devices as well as making changes to its manufacturing processes.
"We received lots of suggestions that we're going to look at," Denham says. "The implementation costs on some of them are high, but the payback can be high too."
Kinne recently assessed the Leggett and Platt plant in Simpsonville, Ky. Jon Swindler, manufacturing engineering manager at the maker of metal parts for reclining chairs, says he was surprised by the comprehensive information in KPPC's report issued after its on-site assessment.
"I live and work with these machines every day, and Sieglinde was able to tell me things about them that I didn't even know," Swindler says. "The reports tell you where you're bleeding and where you can save costs."
In washing the metal parts before painting them, the plant uses a gas-powered system that heats and immerses tubes into a bath to heat the water. "We learned that this was very inefficient," Swindler says. "We're blowing too much heat up the stack. If we change to a new system, we could realize gas savings of $80,000 to $100,000 a year."
Kinne recommended replacing the old system, which at best was only 75 percent efficient in terms of heat retention, with a nearly 100 percent efficient direct-fire water heating system.
Mary Joyce Freibert, pollution prevention engineer at KPPC, says she's seen energy savings for clients vary from 5 percent all the way up to 50 percent once suggested changes were put in place.
Area governments find KPPC helpful, too.
Tom Webb, environmental compliance coordinator for the Lexington-Fayette Urban County Government, says the KPPC's audits helped Kentucky's second-largest city implement widespread cultural changes in its offices, jails and fire stations that are saving money.
"We're trying to break old habits, such as not turning off lights," Webb says. "We've been pleasantly surprised by the way people are responding to the suggestions. I do notice more lights, coffee makers, copiers and office equipment turned off as I walk around the buildings."
The cost of KPPC's services, and the results, are getting rave reviews, too. "For us, this was a great deal," Denham says. "You can't beat the price. For the KPPC to come in here and do all this work for free is amazing. We're going to save money. We're glad we did it."

Return to Top

Table of Contents