Current Issue
(Fall 2005)

Table of Contents
Cyber Warriors: Speed Colleagues Gear Up to Combat Computer Security Breaches
Speed's computer engineering and computer science students may be the new warriors against future cyberterror.
Even before the 9–11 events in 2001 focused more attention on security threats, the department's faculty and community advisers were looking at ways to combat hacking, viruses, identity theft, industrial espionage and other forms of cyber attack.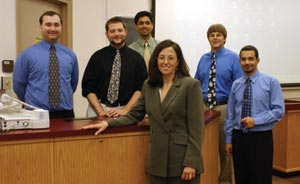 Speed alumnus and tech-business entrepreneur Angela Ciliberti-Riedling (center) advised CECS students who conducted a security audit of U of L's Information Technology Resource Center. From left to right: Marc Brickley, Derek Pfister, Pankaj Sahasrabudhe, David Kimmel and Zia Shaban.
In response, the CECS department started classes and research projects in information security, computer forensics, cryptology and cryptography, as well as ethical, social and legal aspects of the electronic frontier.
Information security is especially important in e-commerce, says Adel Elmaghraby, CECS department chair. Some of the department's courses, lectures and other programs focus on making online business safer.
"You can't trust e-commerce if you're not secure," Elmaghraby says.
The CECS's e-commerce security efforts fit with the Speed School 's emphasis on logistics and distribution. It also ties into Speed's cooperative research ventures with the Health Sciences Center, specifically in bioengineering.
Keeping medical commerce secure is especially important to U of L's Information Technology Resource Center (iTRC), a high-tech business incubator in downtown Louisville.
A group of CECS students recently did a security analysis of the iTRC.
The students (see photo) worked with Speed alumna and Silicon River Technologies president/chief executive officer Angela Ciliberti-Riedling on the challenges of protecting the high-tech iTRC workspace, where several companies share information. (See Ciliberti-Riedling profile.)
Elmaghraby says the business community, and in particular the department's industrial advisory board, provided consultation and supported development of the information security coursework.
The board includes alumni, a student and representatives from the public and private sectors, including Aldona Valicenti, the state's chief information officer from the Governor's Office for Technology, and Robert Saunders, managing director of the Louisville-based venture capital firm Chrysalis Ventures.
CECS professor James Graham led the student team that did the iTRC security audit this past summer. It was the final project of the department's third information security class.
Graham says the students benefited from the research and interaction with business people.
Other CECS information security courses offered include: cryptology and cryptography, taught by professor Ahmed Desoky; computer forensics, taught by Elmaghraby with adjunct faculty member and attorney Michael Losavio; and computer engineering aspects of information assurance, led by visiting professor Ben Arazi.
"It starts and ends with forensics—not just collecting evidence after the crime but preventing crime in the first place," says Arazi.
CECS plans to work with U of L's justice administration department on computer forensics projects of common interest to engineers and law enforcement officials. Faculty members have met with Secret Service representatives, and the FBI has interviewed a student for a job, Elmaghraby said.
The legal profession also is very interested in information security.
"It's an important issue for attorneys because we have legal obligations to protect data," says Losavio, who is on the industrial advisory board and who taught U of L's first information security class with CECS professor Rammohan Ragade.
Elmaghraby adds that the department's expertise in data mining, data warehousing and multimedia and imaging could be applied to information security education for Speed students.
"In an information society those who can use the information move ahead," Elmaghraby says. "We want our students to succeed in the marketplace of knowledge."

Return to Top

Table of Contents