Current Issue
(Fall 2005)

Table of Contents
Angela Ciliberti-Riedling Brings Silicon Valley Home
Angela Ciliberti-Riedling '93S, '94S believes in networking, in both the technological and professional senses.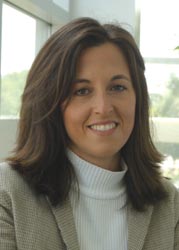 An interest in high school BASIC programming language eventually led her to two degrees from Speed School. Then her career destinations included California's Silicon Valley and back to Louisville where she started a tech-based company with two former Speed colleagues.
Networking has helped Ciliberti-Riedling stay focused during the 10 busy years of her career.
"I try to tell people that I never really understood the impact that networking would have," Ciliberti-Riedling says. "Everybody you talk to has experiences and a background you may need to build a relationship in the future."
Today Ciliberti-Riedling is an executive in two Louisville companies. She is president and chief executive officer of Silicon River Technologies, an information technology consulting company. She also is chief information officer of Silicon River GeoDesigns, a company co-founded with her husband T. Shawn Riedling '89B.
She learned the value of networking from her various jobs in Silicon Valley and elsewhere.
After earning a master's in engineering mathematics and computer science at Speed in 1994, Ciliberti-Riedling moved to Detroit and worked in management training at Chrysler Corp. for three years.
But high-tech beckoned and she moved to Silicon Valley to lead Unisys Corp.'s capacity planning study teams. In Santa Clara, Calif., she worked for 3Com Corp. as e-commerce program manager and then as director of global services for NetFish Technologies Inc. (now Iona Technologies).
Networking is good, but so is timing.
Wanting to start her own tech business and bring her experiences back to Louisville, Ciliberti-Riedling formed a partnership with two colleagues from her Speed School days, Joseph Muller '93S and Brian Coleman '93S.
Ciliberti-Riedling's move back to Louisville in 2000 coincided with the planning of U of L's Information Technology Resource Center and its development lab known as iTRC Net. The iTRC Net serves as an incubator for emerging technology companies.
Not only did Silicon River Technologies move into the center when it opened in 2003, but it became project manager for the iTRC Net's efforts to match Kentucky companies with IT solutions.
Jim Graham, iTRC Net's director, says the setup is perfect.
"We're a client of Ciliberti-Riedling's company, and she's a client of ours," he says. "There are advantages for both parties."
Ciliberti-Riedling adds, "It has been an excellent opportunity to be one of the first companies in the iTRC and to work with U of L."
She maintains her Louisville and Speed ties in other ways, too. When she was in California, Ciliberti-Riedling and her husband led a U of L alumni chapter in the San Francisco area. She also is a member of Speed's alumni council.
Speed School remains bright on her radar. Along with maintaining ties with professors and peers from her college days, Ciliberti-Riedling has worked with faculty and students on mutually beneficial projects.
Recently her firm managed a security audit of iTRC and tapped the talents of students in a computer security class led by James Graham, professor of computer engineering and computer science in Speed. Ciliberti-Riedling gained useful suggestions while the students honed their skills in problem-solving and business presentation. (See story.)
"We enjoy working with students and different groups at the university," Ciliberti-Riedling says.
Ciliberti-Riedling says part of her mission is to tout Louisville's advantages as a technology business destination, which she does as president of a professional organization called Louisville Women in Technology.
Another venue for delivering that message is the Louisville Metro Tech Map & Calendar, a printed and online calendar with information on the city's tech-businesses. The calendar is produced by Ciliberti-Riedling, Shawn Riedling and Bill Emison through Silicon River GeoDesigns.
Ciliberti-Riedling says she hopes the calendar—billed as "The Who's Who in Louisville High-Tech"—boosts IT networking in Louisville, helps build the region as a technological center and combats what she calls a "misperception of brain drain."
Ultimately, Ciliberti-Riedling says, networking as well as promoting and serving Louisville IT just makes good business sense.
"The more you give in terms of service, the more it'll be a win-win for everybody," she says.
Contact Ciliberti-Riedling at her e-mail address: Angela@SiliconRiverTech.com.

Return to Top

Table of Contents